SMA F1 Championship Wrap Up
18 May 2014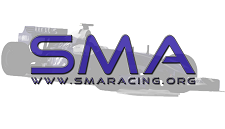 The first SMA F1 Championship has now been run and won but sadly after a last round cancellation.
By Brett Allen
After 11 exciting rounds the SMA F1 Championship sadly ended with a wimper - a wet track seeing to it that the final round was unable to take place. Therefore based on the 11 rounds run and with everyone's worst two rounds drop we are pleased to announce that
ROB WRIGHT is the SMA F1 CHAMPION!!!!

Well done Rob!

Well done also to Andrew Miller for being the only driver to score points in every race on his way to 2nd place and Craig McPhee in 3rd place who also took the most race wins in the series.

A big thank you to all the 24 F1 drivers who took part in the series. It was great to see such big fields every week (an average of 14 cars every week) and to have such close and clean racing throughout.
Final Pointscore:

Series Final Statistics
Race Wins:
Fastest laps:
Round results:
The SMA F1 Championship will return again for another series soon, so if anyone is thinking of joining in the fun - start getting those F1 cars ready!
For now though the focus turns to this weeks NSW State Titles. At the time of writing there are 19 F1 cars entered and it should be a great event. You can follow the Titles through it's RC Tech forums thread and look a complete event wrap up here on RCFormula 1.com.au next week.