SMA Championship Rds 7 - 9
10 April 2014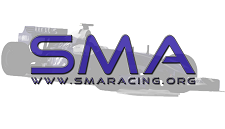 Three more rounds have been run and all with one winner making a late run for the title.

David Warner has continued his late run for the SMA F1 title with strong wins in Round 7, 8 and Round 9. Well done David! Keeping him honest though is our new series leader - Rob Wright with two second places and a third seeing him banking another decent point haul. Andrew Miller is also keeping himself in contention with strong top 5 finishes in all three rounds.

The pace has really stepped up in the last few weeks amongst all the competitors as we close in on the final race and the upcoming NSW State Titles. The lap record has been reduced by nearly half a second with David doing a flat 18 second lap in the Round 8 final. More and more drivers are starting to join the "18 Club" including Kebab, Hiroshi, and Dennis Lueng and it is making for some fantastic close racing.
So with three rounds to go, it is still too tight to call it. Will David be able to catch up in time or will the consistent run from Rob see him over the line? Or can Andrew stike back with a second win? Either way it looks set to be an exciting finish to the series.